Hearken FOR DEMOCRACY
Inform your community's vote

When your community has a voice in the political coverage you produce, a representative democracy is possible.

Hearken supports you in creating participatory, democratic processes for determining what you cover and how you cover it.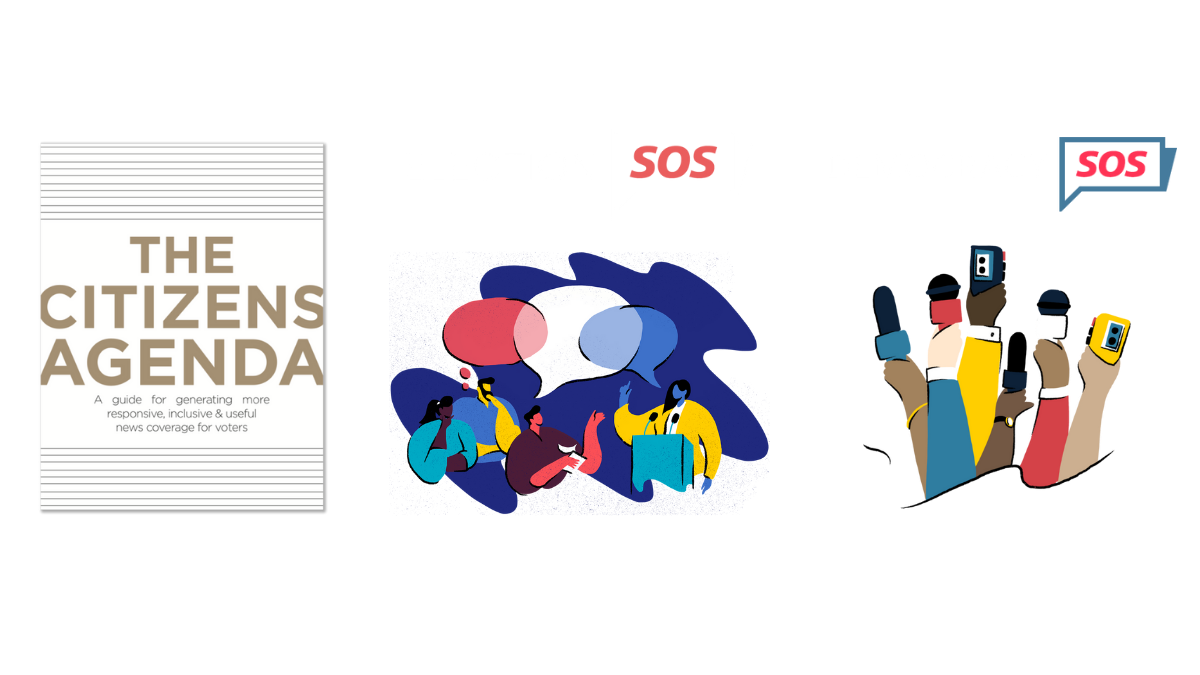 The Citizens Agenda
Find out what the electorate wants politicians to address
In collaboration with influential journalism professor and media critic Jay Rosen, Hearken has created a step-by-step guide to an audience-centric reporting method that better serves voters.
We call it The Citizens Agenda — it's public-powered journalism applied to elections coverage.
Resources include a recording of our Intro to The Citizens Agenda webinar and much more.
Of the newsrooms who participated in our Engaged Elections training in the 2020 elections cycle,
said participating built trust between their newsroom and their community members
said participating helped them be more able to listen and respond to their communities
said participating increased the size of their audience
said they will use the engagement strategies they learned in the next election
From: Robinson, Sue. (Forthcoming). How Journalists Engage: A theory of trust-building for a multicultural world. Oxford University Press
"The Citizens Agenda training helped us reassess how our election coverage impacts the communities we serve."
Carlos Virgen, Digital News Director, The Day
"We definitely want to continue the Citizens Agenda model … It helped us engage with our readers more, which is not only great for our long term sustainability, but also helps them become a better informed audience for voting."

Citizens Agenda Training Participant

"The Citizens Agenda led to us using engagement as a comprehensive, multi-faceted, open-ended ongoing approach to an editorial focus. Though we've done engagement work with great success in the past, it's often been either too open ended, without clear goals and strong follow through on what we're doing with community response, or limited/static, like doing a callout to crowdsource ideas for one story. 
Asking people for their questions (in general, and for particular officials) was also new and really important to the success. We also for the first time directly responded individually to respondents in a systematic way to answer their questions and share pertinent coverage."

Participants from the Cap Times newspaper in Madison, WI

Election SOS – 2020 | 2022

Election SOS is dedicated to supporting U.S. journalists in responding to critical 2020 election information needs. We offer training for journalists, connecting them to best practices, resources and support around election coverage.
What started with a call for radically different campaign coverage became a multifaceted initiative producing training, emergency response guides, a rolodex of diverse sources for elections-related issues, extremism support, rapid response grants and a fellowship program placing 37 up-and-coming journalists in 20 newsrooms for additional election support.
Election SOS is created by Hearken with the support of Trusting News and is fiscally sponsored by the American Press Institute with lead funding from The Democracy Fund. 
Democracy SOS – 2022

Democracy SOS is a fellowship designed to help newsrooms think big; plan long-term; and reinvent politics, governance and elections coverage with and for their communities.
The Democracy SOS fellowship is supporting 22 newsrooms committed to helping lead this transformation, with priority given to those in Arizona, Florida, Georgia, Michigan, Nevada, North Carolina, Pennsylvania, Texas and Wisconsin.
The Solutions Journalism Network (SJN) and Hearken jointly launched this fellowship to tie together effective trainings at the intersection of journalism and civic empowerment, with equity as a core value and practice. We envision a future in which newsrooms replace stories about conflicting and competing polls and candidates—which we know contribute to distrust—with more deep, ongoing examinations of important social issues, including the health of our democracy itself.
The fellowship applies insights gained from other initiatives led by Hearken and SJN, among them Election SOS, the Citizens Agenda, Citizens' Solutions, Renewing Democracy and Complicating the Narratives, all of which have helped newsrooms approach civic, political and elections-related reporting in new ways.
Democracy Day – September 15, 2022

Democracy Day is a national effort to draw attention to the crisis facing American democracy, provide the public with the context and information they need, and bring all types of media together to sound the alarm collectively. Through a nationwide journalism collaborative, we are organizing newsrooms to coordinate coverage on September 15, the International Day of Democracy. On this day print, radio, TV, and digital media on the national and local level can come together to report on the threats to democracy that we're facing.
Hearken is proud to be a partner in organizing the first ever Democracy Day, and we invite your newsroom to join us by devoting a day of coverage to American democracy.
Democracy Toolkit

The Democracy Toolkit is a collection of resources created in partnership with The Center for Journalism & Democracy at Howard University as part of the November 15, 2022 Democracy Summit for journalists. 
The Summit invited historians, authors, journalists, lawyers, and experts in democracy to speak about and more closely examine the current threats to American democracy from a journalistic lens.
The Toolkit is a reference guide offering resources to journalists and the general public alike. The Toolkit highlights dozens of organizations engaging in pro-democracy work, shares a broad array of resources (including books, podcasts, toolkits, classroom resources, and more), offers several case studies from organizations large and small, and showcases the speakers from the Summit. 
Interested in working with Hearken to support democracy?