What We Do
We train teams to define and achieve engagement success

Hearken's workshops and bespoke training help organizations build sustainable engagement at scale 

Engagement Workshops
Hearken's powerful workshops feature a blend of theory, practical lessons and hands-on learning.  These interactive sessions run between 90 minutes and 2 hours and help participants ground their work in the big picture, their current goals and help to remove the obstacles keeping them from realizing the benefits of engagement work.
The following workshops are our most popular. We also build custom workshops that blend and expand upon these topics.  Workshops are available virtually or in-person.

Get in touch for more information and to schedule capability-boosting workshops for your team.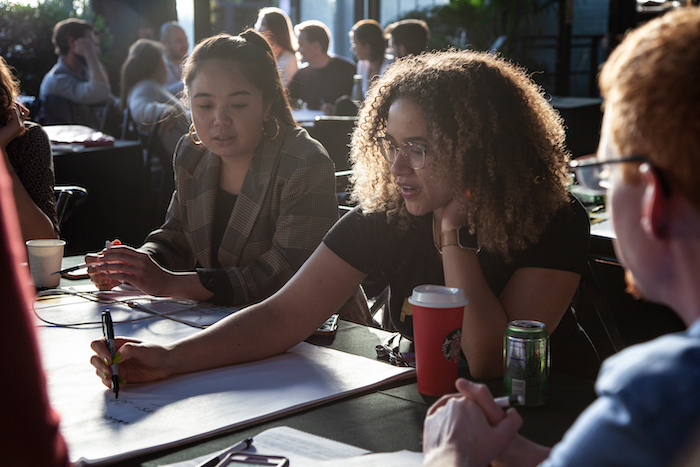 A successful engagement strategy requires alignment of your team. This workshop demystifies what can feel like a buzzword, helping staff get clear on the variety of engagement styles available to them and which types are best for your team to pursue.
You can have fabulous engagement aspirations and strategies, but if your team is not "bought in," they're not happening.  Skepticism or hostility for engagement work disappears once people understand what it can do for their roles and goals. This workshop helps individuals and teams come to a shared appreciation for its importance, using inspiring examples to kickstart creativity and momentum. 
The Foundations of Engagement
There are no shortage of approaches to engagement, but they each have their strengths and weaknesses. As teams build their strategies, it's critically important to be intentional, and not extractive. This foundational workshop sheds light and sophistication on the characteristics of mutually beneficial engagement strategies that leaves your team and those you engage with better off.
What actually counts is not always countable. This workshop helps your team understand the variety of ways to quantify and measure which activities help you reach your goals. Move away from the "metric du jour" and get clear on what's meaningful to your team, organization and those you serve. 
If you've heard someone ask, "How do we get X group to come to us?" then you need this workshop. In part, because the question is backwards. You should be asking: "What do we have of value for X group?" In this workshop, rethink common mantras about who your audience is and what engagement looks like. Learn how to think about your audience as a network, processes for social listening, and leave with new target audience personas identified to help you expand your reach.
This workshop helps your team rethink your audience or stakeholders as a network and provides practices to help you expand your reach.
Ask anyone to take on more work to their already overwhelming schedule, and you'll naturally get resistance. This workshop helps your team identify ways to work engagement into your meetings, calendar, goal setting and operational systems so that it doesn't become yet another thing you need to find time to do.
Translating Engagement Into Revenue
Engagement is a business model, though most organizations haven't yet realized that potential. When people feel seen and heard, they are far more likely to support your work and participate in ways that can save your organization money. This workshop helps you pinpoint the opportunities that engagement has to support your business model, offers inspiring proven examples and leaves you with actionable insights to put into practice.
What We Mean When We Say…
Community: groups of people who are brought together through a shared commonality, whether it's an interest, a region, belief, or other characteristics.
These are the people you are trying to reach. Some people within the community may know you well, while others may not. Yet.  
Audience: the group of people who are actively listening to you and open to hearing what you have to say.
Readers, listeners, customers, clients, students—your audience might go by many names depending on the work you do. Audiences need to feel engaged and heard in order to continue investing their time and energy into your organization.
"It was such a pleasure to work with Hearken on Chicago's Poverty Summit. I loved their approach, their intentionality and thoughtfulness. I really learned a lot from the process and from their team."
Emily Krisciunas, Deputy Policy Director, Office of the Mayor – City of Chicago
We are so happy with the success of Hearken's consulting and workshops. All of our participants expressed great satisfaction, both with the interaction and with the lively presentation by Hearken's consultant. 
I've already recommended Hearken to more colleagues; Hearken's methodologies represent how news organizations are obliged to change in the coming years. 
Per C. Magnus, Director of The Center for Investigative Journalism at the University of Bergen, Norway
Hearken's consulting support helped to set a new tone for our staff on our new relationship with our audiences. They supplied great examples, tons of relevant information and easily connected new ways of working to our company's primary goals. I'd certainly recommend Hearken's consulting to other organizations.  
Victor Hernandez, Executive Editor at Crosscut and KCTS 9, Seattle, Washington
The Hearken team personifies collaboration. From start to finish, they exemplify empathetic listening, expansive imagination, and impressive results. To be honest, I  get nervous working with consultants. Prior to Hearken, I felt like they just created more work. Not the case with Hearken. I was and still am BLOWN AWAY." 
J.D. Van Slyke, Office of Community Engagement, City of Chicago