Hearken's CMS
Help your community help each other

Hearken's Community Management System, Switchboard, connects members of your community with one another, generating engagement for your organization.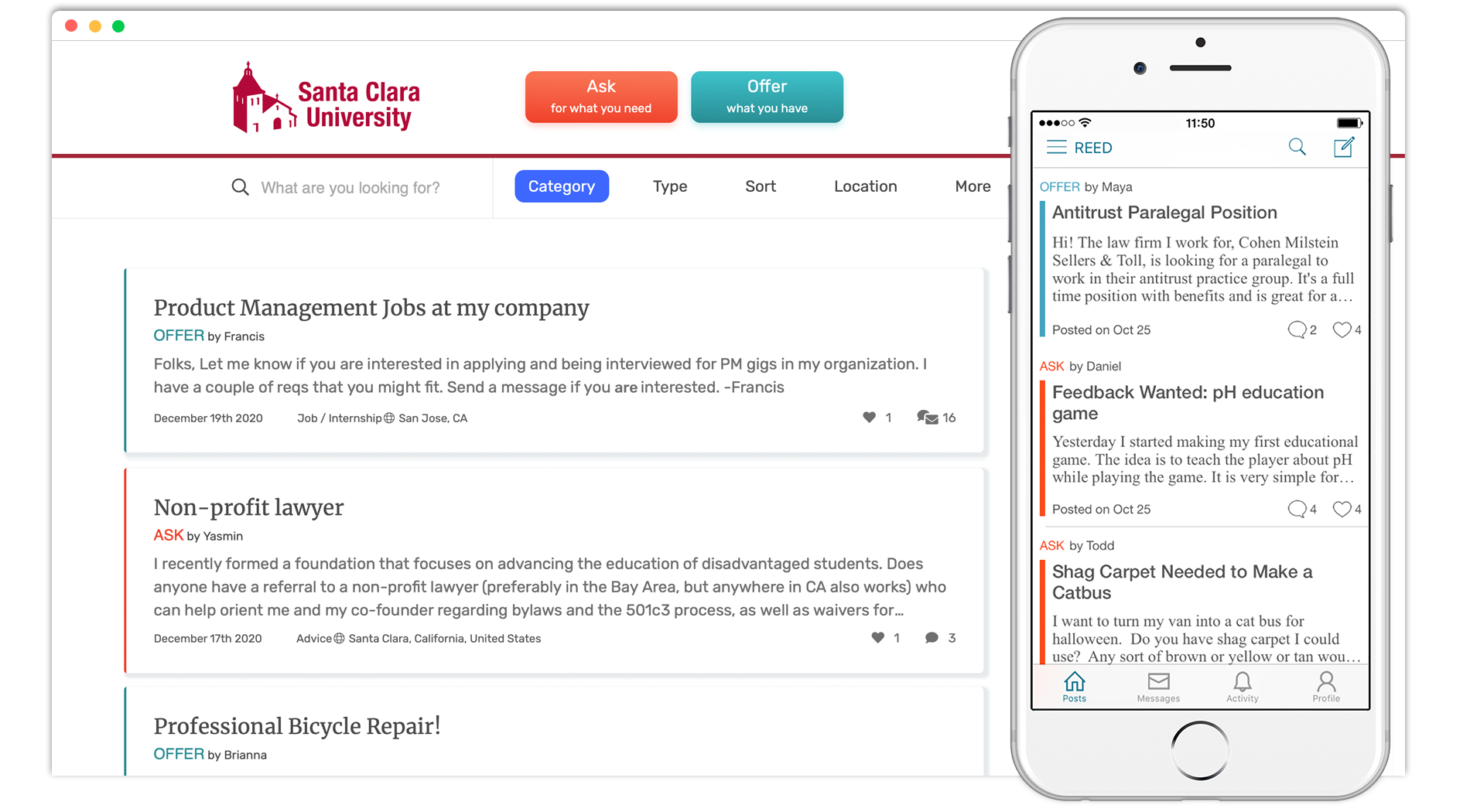 "Switchboard lets Broncos maintain and grow their affinity for SCU and the Bronco community. It keeps Santa Clara relevant to them no matter where they're at in their life. Ultimately, everyone has something to ask or something to offer. That's universal."
Megan Alderete, Director of Digital Engagement, Santa Clara University
"Prior to Switchboard, we always lacked an efficient way to connect our community members to one another for the purpose of asking for help and offering support. Switchboard has been the perfect solution because now our community members have access to everyone's network."
Craig Swinyard, Director of Alumni Relations, University of Portland
Help Constituents Help Each Other
Switchboard makes the on-campus community that your alumni lose after graduation available online.
Alumni use the platform to connect with students, each other, and their alma mater. Every connection builds institutional loyalty. Switchboard engages thousands of alumni every month without draining staff time.
Alumni love Switchboard because it actually meets their needs in their personal and professional lives. Offer the alumni benefit that keeps on giving: a powerful network.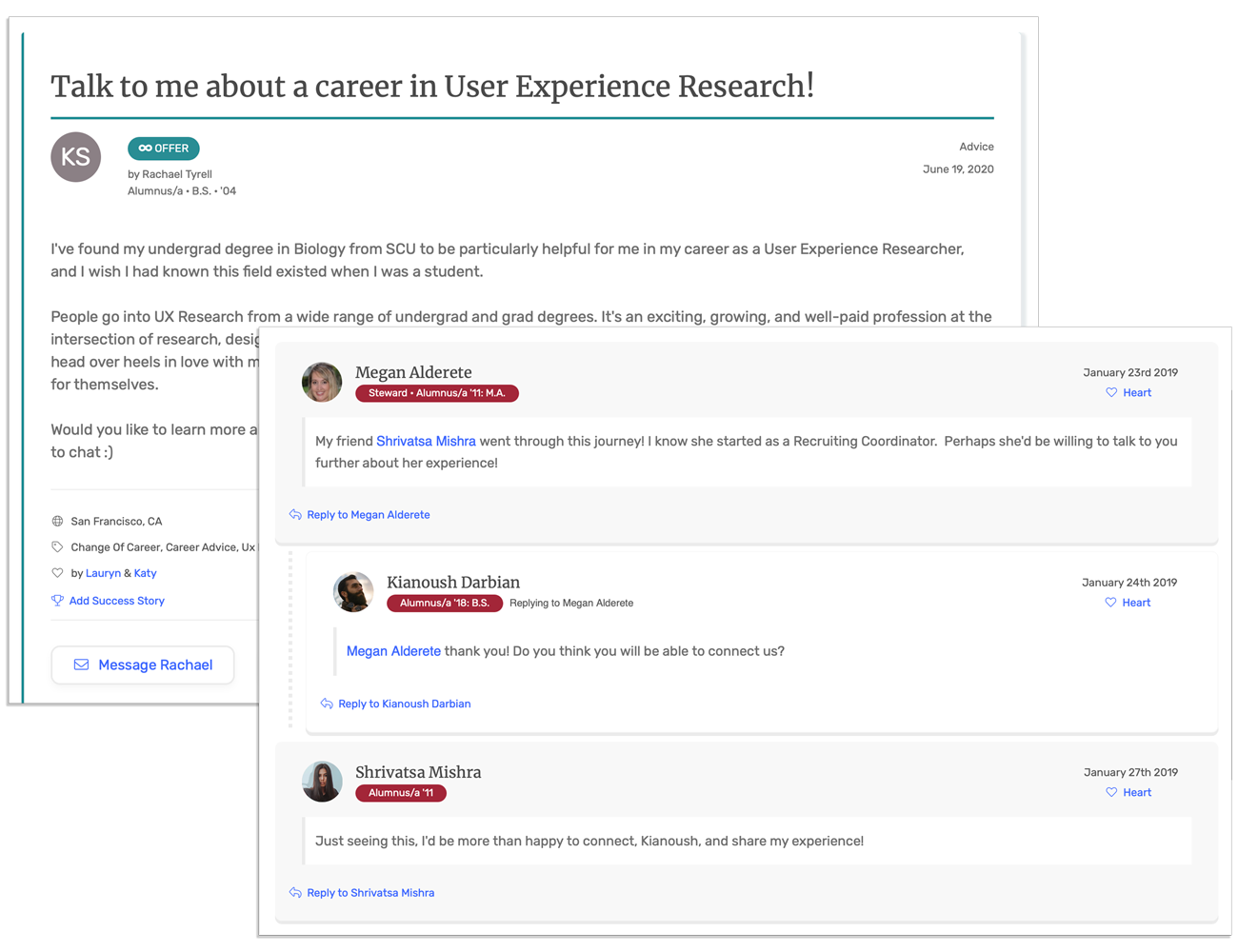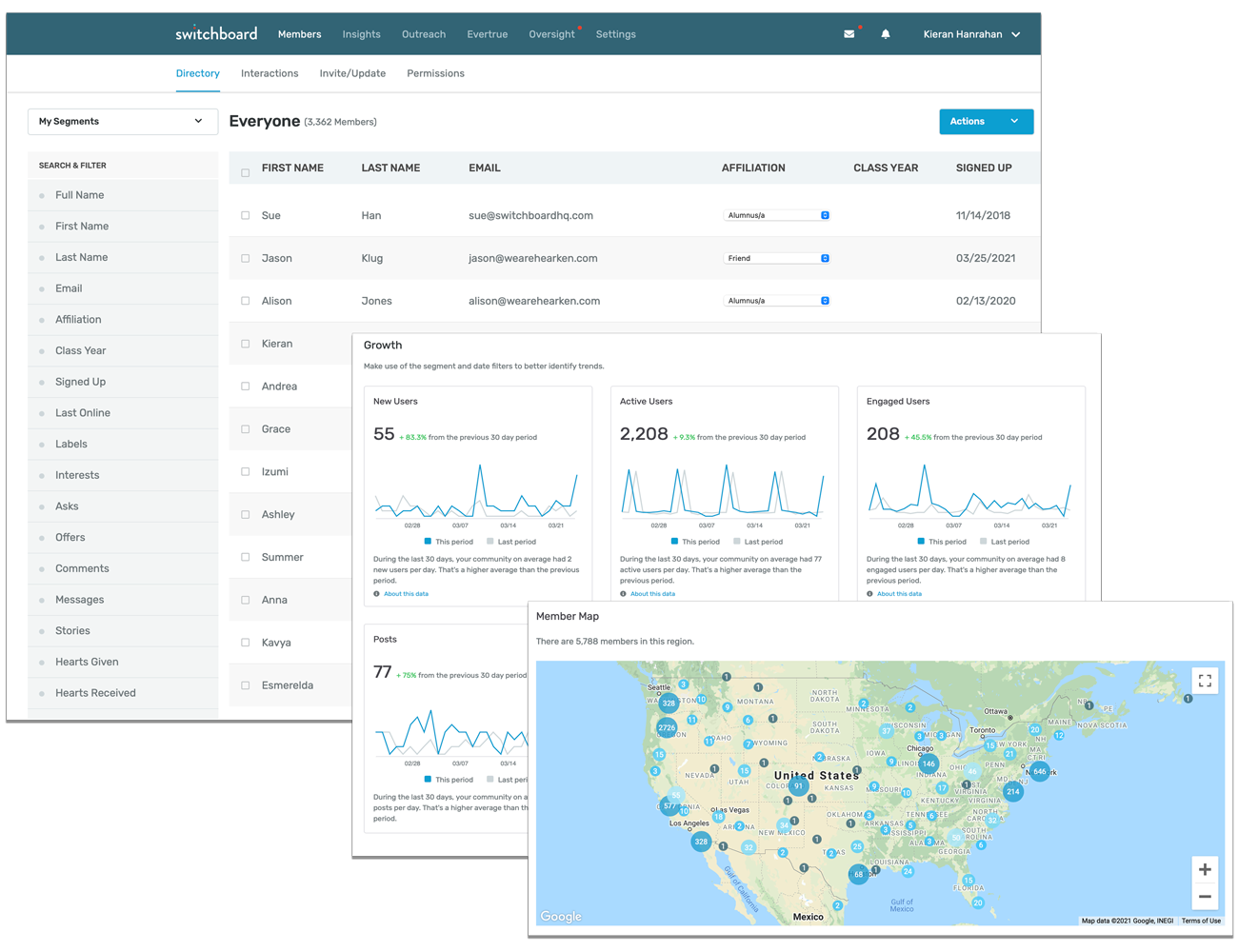 Understand Your Community
We help institutions engage the unengaged and surface the most active members of their alumni community.
You want a platform with a proven return on investment. Switchboard captures every interaction, every success, and reports it all to you and your team automatically each week. It tracks growth and user activity for you so you can spend less time mucking around in spreadsheets and more time impressing your team.
Where are your alumni most active? What industries are they interested in? What do they care most about? Switchboard keeps the pulse of your alumni community so you can engage them more efficiently and more effectively.
Engage Constituents for the Long Term
We invest heavily in established alumni once they become gift prospects. We invest heavily in our students. But we invest little in our relationships with young alumni. 
We need to start cultivating alumni by actually helping them grow as human beings and professionals. If we can increase alumni capacity to give, we can reap the rewards for our institutions.
Client Testimonials – Hearken's Community Management System
"We absolutely love Switchboard's usability, especially for our organization. The layout is incredibly straightforward and easy to use. Switchboard has definitely helped our community grow and connect with each other."
OpenSignal
"I must admit, this is the best overall team I've ever had the pleasure of working with in almost 30 years at Seattle Pacific University."
Jacqui Smith-Bates, Dean of Career and Learning Support, Seattle Pacific University
"The Switchboard team demonstrated a true understanding of the disconnect between some alumni platforms and what alumni actually need. Switchboard's flexibility, great customer support, and administrator tools make it easy as possible to sign up, get started, and see results right away."
The American School in London
Interested in using the CMS at your organization?